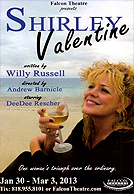 Shirley Valentine, Falcon Theater (2013)
"DeeDee Rescher gives an Earthquake of a performance as Valentine."
- Radomin Luza, North Hollywood/Toluca Lake Patch
"Rescher captivates from the moment she walks on stage."
- Margie Barron, Tolucan Times
"DeeDee Rescher grounds Shirley in a light hearted gravitas thats moving. Rescher imbues her with pathos, plumbing her frustration and also her irrepressible spirit."
- Bryan Buss, EDGE LA
"DeeDee Rescher is comedic and poignant. This is a 10 out of a 10 performance. A MUST SEE!"
- Cathy Wayne, Theatre Review
"DeeDee rescher is superb in the title role, her British accent flawless."
- Carol Kaufman Segal, ReviewPlays.com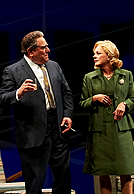 Lombardi, Tour Production (2012)
"Marie Lombardi, played with aplomb by DeeDee Rescher, the recipient of the plays best writing, serves as the shows comic relief, and excels in this regard. She is the most entertaining and interesting thing on stage."
- Bob Abelman, Willoughby News Herald
"Rescher steals every scene she's in, with her raspy voice, quick witted delivery and her very convincing warm spirit."
- Kory's Review
"The delightful DeeDee Rescher steals every scene in which she appears. She is so endearing and so funny you cannot help but falling in love with her."
- Christopher S. Musselman, Musselman
"Rescher is a joy to watch, projecting intelligence and self knowledge, never self pity."
- Andrea Simakis, The Plain Dealer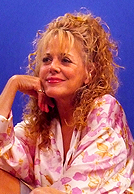 Shirley Valentine, Laguna Playhouse (2011)
"DeeDee Rescher brings Shirley to a full and vibrant voice at the Laguna Playhouse, as she slips into Shirley like a second skin. Rescher has a way of showing pain behind the funniest lines, and her beaming face occasionally betrays some of the hurt Shirley feels. It's a finely balanced performance that's full of a veterans small details of craft, so seamlessly integrated that the result is completely natural. This is a star vehicle for a mature and skilled performer, and Rescher provides all the goods. She is a woman of the stage and she is in her prime."
- Paul Hodgins, Orange County Register
"In a tour de force performance, DeeDee Rescher as Shirley, has us in the palm of her hands. Rescher's supremely watchable performance makes for as satisfying a play as one starring a full troupe of actors. Shirley Valentine is something special indeed, and with the superb Rescher front and center, we're rewarded with abundant laughter and a tear or two thrown in for good measure."
- Steven Stanley, StageSceneLA
"The entire cast of Shirley Valentine is brilliant. Of course, the entire cast consists solely of the actress playing the title role, which requires the perfect leading lady and DeeDee Rescher fills that role beautifully. Rescher's skill at painting a verbal picture of her life and adventures is outstanding. Never do we tire of her unending monologue and yearn for other characters to appear. Rather, we are willingly caught up in her reverie and we hang on her every word. It's well worth the extended standing ovation accorded DeeDee Rescher on opening night."
- Tom Titus, Laguna Beach Coast Pilot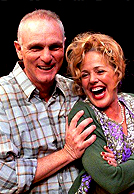 Everybody Say Cheese by Garry Marshall, Falcon Theater (West Coast Premiere)
"Funny and achingly real, Rescher gives a performance that begins merely as comedic and develops into a truly three dimensional portrait of a woman whose sunny exterior hides more than a little pain and frustration."
- Stage Scene LA
"Rescher captures the frustration and longing of an unfulfilled woman."
- Backstage
"Husky-voiced and adorable DeeDee Rescher is outstanding as Harriet. Her comic timing is only surpassed by her fine sense of drama."
- Grigware Talks Theatre
"Joe Regalbuto as Leo and DeeDee Rescher as Harriet are a dynamically double delight."
- Tolucan Times
"Harriet, played to dee-lightful perfection by actress DeeDee Rescher..."
- Valley News
"Rescher (King of Queens) bases Harriet's insanity in hard reality."
- Burbank Leader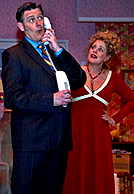 How The Other Half Loves by Alan Ayckbourn, International City Theatre (2010)
"Rescher is such an all American actress that it comes as a delightful surprise to hear her signature husky voice in "veddy veddy propah" (and spot on) British mode. She's an absolute delight as Fiona."
- Stage Scene LA
"Most entertaining of the cast were DeeDee Rescher and Gregory North. Their on-stage chemistry causes roars of laughter."
- Diversions
"DeeDee Rescher is fabulous as Fiona. Blonde, effervescent and bubble headed."
- Grunion Gazette
"DeeDee Rescher flawlessly delivers a key performance as the self centered Fiona."
- Buena Park Independent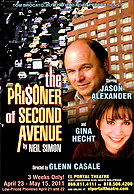 Prisoner of 2nd Avenue starring Jason Alexander and Gina Hect, El Portal Theatre (2011)
"Carole Ita White, Annie Korzen, DeeDee Rescher, and Ron Orbach are frighteningly hilarious as Mel's possessive siblings. Each has their own idiosyncrasy; and as a unit, they're only slightly less lethal than the Manson family."
- Jonas Schwartz, Theatermania
"The supporting cast is stellar. They leave no emotional or spiritual leaf unturned. Annie Korzen (Pearl), Deedee Rescher (Pauline) and Carole Ita White (Jessie) as Mel's sisters all give convincing, vital and edgy performances that will long be remembered."
- North Hollywood/Toluca Lake PATCH
"The three grotesque sisters (Carole Ita White, Annie Korzen and Deedee Rescher) belong in a play of their own."
- Charlotte Stoud, LA Times"
"Mel's family is a perfect representation of selfish New Yorkers and is played to the hilt by the actors. The wonderful chemistry of all the players makes it a memorable evening."
- Robert Machray, BC/StageMage
"As Mel's skewed siblings swooping down mid-crisis, Ron Orbach, Annie Korzen, Deedee Rescher and Carole Ita White work strongly in tandem."
- Bob Verini, Variety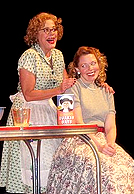 Red Herring, Laguna Playhouse
"Rescher handles the broadest comedy with variety and panache."
- Variety
"Rescher rises beautifully to her roles' considerable demands."
- OC Register
"Scene-stealing DeeDee Rescher is delightful in a top-notch SoCal premiere."
- LA Times
"The sextet of actors is a marvel of casting."
- Backstage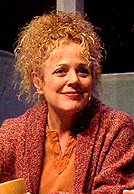 The Pursuit of Happiness, Laguna Playhouse (World Premiere)
"Annie, portrayed by DeeDee Rescher, is absolutely wired, strong-willed and passionate."
- LA Times
"Dresser's finely-developed talent for observational humor pays off, especially in the hands of Rescher, a driven, whiskey-voiced force of nature whose very hair trembles with indignation when she's crossed."
- Daily Variety
"The remarkable DeeDee Rescher is blessed with the juciest role, and runs with it all the way to the bank!"
- Laguna Beach Coastline Pilot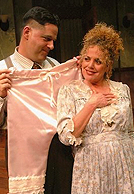 The Underpants, Laguna Playhouse
"Positively a scream. As the nosy upstairs neighbor is DeeDee Rescher, whose vicarious excitement bubbles over beautifully."
- Tom Titus, Laguna Beach Coastline Pilot
"DeeDee Rescher is a riotous lightening rod."
- Joseph Sirota, View
"Rescher's bubbly performance would bring a grin to the sourest face."
- Gene Warich, Random Lengths
"Rescher's Gertrude is a nicely observed take on the randy older woman."
- Paul Hodgkins, Orange County Register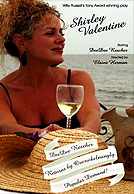 Shirley Valentine, Long Beach Playhouse
"If you love theater, do not miss DeeDee Rescher's spectacular one-woman portrayal of Shirley Valentine. I cannot imagine anyone, anywhere, interpreting Shirley Valentine with more charm, delight and insight than Rescher. For two hours, she held the audience spellbound."
- Shirle Gottlieb, Backstage West
"DeeDee Rescher delivers a bravura performance with her wholesome stage presence, her Shirley is a creature of duality: earthy and senuous, yet intellectually curious."
- Eric Marchese, Orange County Register
"The charming Rescher takes ample time to explore her gamut of emotions. The result is a truly convincing tale of one woman's hilarious and emotional struggle for independence."
- Martin Hernandez, LA Weekly
"DeeDee Rescher gives Shirley a vibrant authentic voice, giving full value to the journey's spicy hilarity and poignancy."
- Lynne Heffley, LA Times
"DeeDee Rescher is to the manner born, we are charmed and touched. Bridget Jones has nothing on her. Ms. Rescher felt the role in her bones and was kind enough to share it with us. This was an excellent performance."
- James Scarborough, Grunion Gazette
"Actress DeeDee Rescher is every bit as wonderful in the part as Pauline Collins was in the movie, better than Collins actually."
- Allessandra Djurklou, Press Telegram
"Rescher's specificity, facial flexibility and flair for dialects make "Shirley Valentine" shine like the moon reflected from the Mediterranean Sea."
- Ben Miles, Sun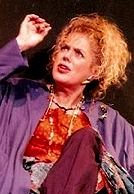 Beyond Therapy, Long Beach Playhouse
"Rescher's fruitcake-of-all-fruitcakes character takes on mannerisms and gesticulations I've frankly never before witnessed in another human being. She is marvelous and hysterically entertaining."
- Vicki Paris Goodman, The Signal Tribune
"To see DeeDee Rescher's performance of Bruce's therapist, Mrs. Wallace, is worth the price of admission. This woman is comfortable in her own body and talent who trusts the audience enough to act without a net. Does she really have all the best lines, or does it just seem that way?"
- Marchelle Hammack, Beachcomer
"Rescher's Wallace steals every scene she's in. It takes an actress of some talent to make this character amusing instead of grating, and Rescher manages it very well."
- Alessandra Djurklou, Press Telegram
"Rescher creates an endearingly goofy portrayal as this enthusiastically misguided analyst."
- Melinda Schupmann, Backstage West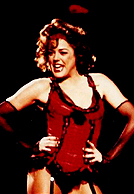 Cabaret, San Jose CLO
"DeeDee Rescher's Sally Bowles overwhelms limited vocal range with a 5000 watt face, incandescent personality, fearless acrobatics and an ability to act a song better than it might be sung."
- John Mahoney, LA Times
"Rescher plays Sally Bowles for all she's worth. With an animated face, expressive eyes and seductive body, Ms. Rescher is an actress/singer/dancer who delivers strongly in all areas."
- Lee Melville, Variety
"Ms. Rescher is a young Ethel Merman, her voice full and strong, her activity continuous and at a breakneck pace."
- Lois Dean, Star News
"Rescher maintains her scatterbrained Sally Bowles and brings us over to her side, making us care about her. She is a fascinating performer."
- Gardner McKay, Herald Examiner
"DeeDee Rescher gives us an exuberant Sally. She's raspy voiced, wide-eyed, tremendously expressive and struts around the stage with complete command."
- Sandra Kreiswirth, Daily Breeze
"Rescher gives Sally new dimensions and, fortunately, makes no attempt to emulate Liza Minelli. Ms. Rescher is a triple-threat comedienne who possesses the energy and style of Rosalind Russell and Betty Hutton."
- Sigrid Macey, Ledger Verdugo Vistas